How to Recover Photos for iPhone
Apple products including iPhone4, iPhone 4s, iPod, iMac, Macbook or any other items have become more and more popular around the world. Many people take Apple brand as their first choice when picking electronic products. Although, Apple products have their own design idea, and perfect user experience, Apple sure does have its problems, agree me? Let's take iPhone 4s for instance. One of my friends' iPhone 4s, when upgraded iOS 5 to 5.0.1, it definitely suffers from losing all the pictures taken before and all the wallpapers downloaded previously have also gone away! Too bad experience and a lot panic! To get the lost photos and wallpapers back on iPhone 4s, my friend asks me to do a favor. To be honest, I have never had this kind of problem when I using my iPhone 4, so I googled to find some useful and efficient method to fix it for my friend.
Undeleted Photos for iPhone
Seemed there were lots of people have the similar problem when upgrading their iPhone to the latest iOS version. Though, let me show you the effective and easiest way to recover photos for iPhone.
1. To download a professional application about Mac data recovery, if your computer is for Macintosh; or you are able to download data recovery software for Windows. I found out that uMacsoft data recovery is easy-to-use for the ones who are newbie of software operation.
2. Connect iPhone to Mac (I use Macbook), then scan the partition (iPhone) to search your lost photos.
3. A few minutes, you are able to view all the files including photos or pictures, videos, audio files are scanned and showed on the left side of interface. All of these data all the ones you lost or damaged on this iPhone, maybe you don't notice at all.
4. Select which photos you require to retrieve, and then save them to local computer.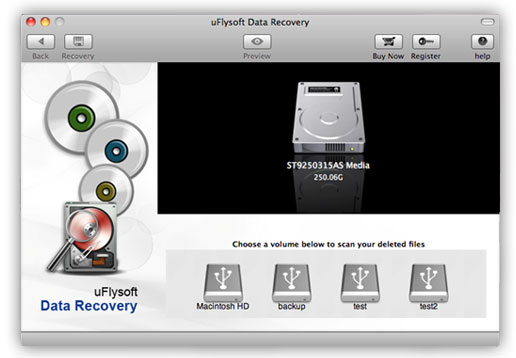 Note
If you would like to recover lost files for your iPhone 4/4s, iPhone 5, iPad series or even iPod series, the most important step is to mount your Apple devices as USB drive, then uMacsoft could detect devices completely, then continue to scan the lost data and retrieve them successfully. iFunbox is a great software to help you mount devices as USB drive on Mac. BTW, if uMacsoft still unable to scan your iPhone, iPod or iPad, then go to my blog of "How to Recover Photo, SMS, Contacts and Other Files" to review another method.
High-Tech Features of iPhone
As iPhone users, some knowledge you should learn about. Here we'll walk through three high-tech features of Apple iPhone.
Multi-Touch Technology
The most outstanding feature is the iPhone radical multi-touch screen. The MT screen allows any mechanical button to appear on this high tech toy. It simply allows you to use your fingers to operate it. By tapping the screen with your finger, you can navigate menus, dial phone numbers, write e-mail messages and likewise use the whole functionality of the popular gadget.
Revolutionary Sensors
The gadget's sensors have the ability to detect changes to the iPhone's environment. The sensors are minuscule yet absurdly powerful. The three major sensors include an accelerometer, sensor for ambient light, and a proximity sensor.
Mac OS X Operating System
The hype behind the Apple iPhone increased when Mac fans found out the Mac OS X would be included. The Mac OS X is the operating system inside the latest Apple computers. The iPhone contains a 500 MB version of the operating system.
The Articles May Benefit You
How to recover lost files from SD Card?
How to Recover Deleted Photos from Digital Camera?
How to recover lost files from CF Card?
Testimonials
"With uMacsoft I can go on vacation with less worries! I can now leave my Mac safe, sound, clean and secure Mac always!"
-Randy Porcioncula
iPhone 4s Photo Recovery
We always support you the best services during 24*7
Hurry! Quick to download it to Recover Pictures for iPhone!!