How to Recover Lost Audio Files on Mac
"I am urgent to get professional audio recovery software on Mac to help me get my deleted audio files back. This is terrible experience, I wanted to format my USB drive, and I accidently click on my hard drive to format! OMG, there are hundreds of audio files on my partition of my Macbook Pro, they were gone by my hell click action. These files are so important for me, as I work with them, they are my kids! Is there any may or software allowing me to retrieve audios as soon as possible? "
Currently, there is no doubt that our life has become more brilliant with audio files. Mobile phones enable us to record special ringtones to make fun. Some professional software can record our words or songs for memory. If you are new mother or father, you must record your baby's crying or laughing as their growth gift. Then, if you suffer a bad experience as the mentioned above, you might be frustrated and depressed. Actually, we work with computer; data loss is a common phenomenon in daily life, once your precious audio files are deleted or formatted by mistake, don't worry about that, uMacsoft Audio Recovery is the very application to allow you to recover lost audio seamlessly. Whatever video, audio or image files, once they are lost from your Mac, hard drive or portable devices, uMacsoft is your good assistant to get them back! How does uMacsoft Data Recovery work?
1. Install uMacsoft Audio Recovery and launch
2. Scan partitions to find lost files
3. Preview and save what you deleted or lost data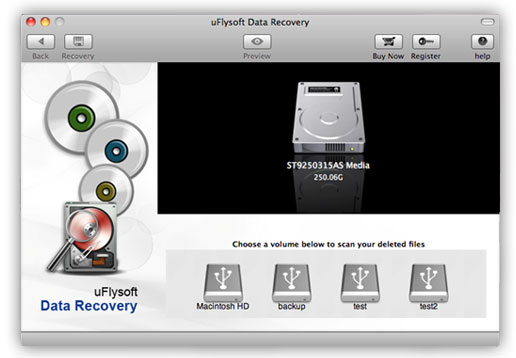 Note and Tips
You cannot recover audio files to the same drive where they were lost, therefore choose another volume or some external storage device such as a USB flash drive to save them safely.
How does uMacsoft Audio Recovery works for you?
As powerful and professional recovery utility, uMacsoft Data Recovery enables to work as the best audio recovery software on Mac, with it, you never worry about lost your important files like videos, audios, images and Microsoft Office document files, or even email files. Its easy operation doesn't waste you more time to read user manual, only three steps that your lost files are able to get back magically! uMacsoft's smart engine could scan your partition completely, which display all the missing files on the screen, so that you would figure out what other files have been lost, and you never know at all!
Note:
In order to avoid repeating recovery job to find your gone files, you'd better mark your important files as read-only, or make copies of them periodically.
The Articles May Benefit You
How to Recover Deleted Photos from Digital Camera?
Testimonials
"With uMacsoft I can go on vacation with less worries! I can now leave my Mac safe, sound, clean and secure Mac always!"
-Randy Porcioncula
uMacsoft Audio Recovery
We always support you the best services during 24*7
Hurry! Quick to download it to Recover Audio Files on Mac now!!