How to Recover Microsoft Office Documents on Mac
Recover Lost MS Documents
I am editor who work in the front of computer, and each day I have to type words on my Microsoft Word. Also I have to do some statistical works on Spreadsheet. I am not expertise of computer; I just take it as my working partner. Today, when I finished my works on Microsoft Word, before saving it, my computer turned to black screen. When I reboot it, all my files were gone, I was unable to find it on the Trash, and there was nothing in it at all, where are they? All my words with Microsoft Word are lost! Help! Can I recover Microsoft Word yet?
To fix the problem above, uMacsoft Data Recovery is able to get the lost files back successfully. Whatever video, audio or image files, once they are lost from your Mac, hard drive or portable devices, uMacsoft is your good assistant to get them back! How does it work?
1. Install uMacsoft Data Recovery and launch
2. Scan partitions to find lost files
3. Preview and save Microsoft Word on computer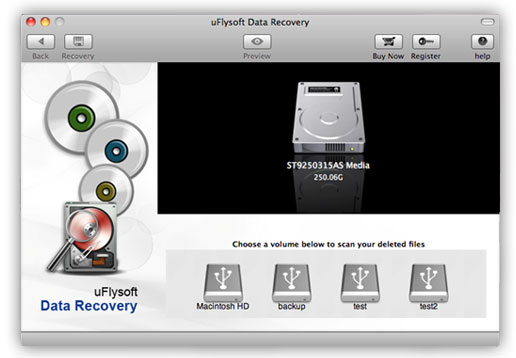 You cannot recover the files to the same drive where they were lost, therefore choose another volume or some external storage device such as a USB flash drive to save them safely.
Document Recovery Task Pane
If a Microsoft Office or Office family program encounters a problem and stops responding, you can close the program in a controlled manner. The files you were working on are analyzed for errors, and information in them is recovered if possible. In some cases, however, no information can be recovered.
The Document Recovery task pane allows you to open the files, view what repairs were made, and compare the recovered versions. You can then save the best version and delete the other versions, or save all of the open files to review later. See more tutorial from Office Microsoft website.
MS Document Recovery
How do you choose a great data recovery solution to help you recover lost files successfully and seamlessly? Would it be speed, convenience, or friendly design? These factors surely matter for all kinds of computer software; however, data recovery has one specific demand that outweighs everything by a huge margin. That is reliability of the recovery!
In an unfortunate case of hard disk crash or file system failure, what would you try to recover the hardest? Would it be a set of software products such as Windows or Office itself, which you can easily re-install from the original CD or DVD, or would it be files and documents you spent your personal time working on? Unless you have a fresh backup of your documents somewhere, the documents are impossible to simply re-install. If you have a recent copy of your Office documents, that's great! But what if your backup is several days old, and you've put a lot of work into these documents? Or even worse, what if you don't have a backup at all? To take uMacsoft Data Recovery as your must-have recovery utility in case, with it, you are able to recover digital photos, retrieve videos, audio files or any other data on partition or external hard drive!
Testimonials
"With uMacsoft I can go on vacation with less worries! I can now leave my Mac safe, sound, clean and secure Mac always!"
-Randy Porcioncula
uMacsoft Documents Recovery
We always support you the best services during 24*7
Hurry! Quick to download it to Recover MS Documents!