How to Recover Lost Files from USB
Lost Files on USB
I rely on my USB on daily works, and last hour when I was tried to access my 16 gigabyte USB I was almost dead in the water. When connected USB to my new Macbook Pro, it said that USB can not be opened, need to format first. OMG! All my email attachments, work files and my valuable files including kid's photos, birthday party photos, and any other files like music, videos and RSS data are on there. I was unable to get them back again, I don't dare to format USB as Mac suggested, as I don't have any copy of those files. I have been trying to fix this terrible problem for almost one hours, how can I figure it out?
Reasons to Lost Files on USB drive
1. Deleted files from USB flash drive by mistake, and the Trash has been emptied already;
2. When transferring files to or from USB, the progress is cut off with no reason;
3. Shut down computer without unplugging USB
4. Bad sector infected USB storage media result in data loss;
5. Corrupted music or video files due to system failure;
6. Damaged files like photos or images because of power surges;
7. Virus generated data loss.
Retrieve Files from USB Flash Drive
With development of science and technology, USB thumb drives and memory cards are getting larger and cheaper; it's easier to trust much of your data to them. Most of us rely on them to store our files, including valuable or important ones. So it's much easier to mistakenly erase data or have them hiccup on you. if you are in the habit of holding on to that data for too long, such as not transferring photos from USB to your computer, terrible thing would happen. Lose or damage Photos on USB! I will walk you through how to recover data from a USB drive or memory card if it becomes corrupted.
Tutorial to Recover Files from USB
1. Install uMacsoft USB Recovery and launch
2. Scan partitions to find lost files
3. Preview and save what you deleted or lost data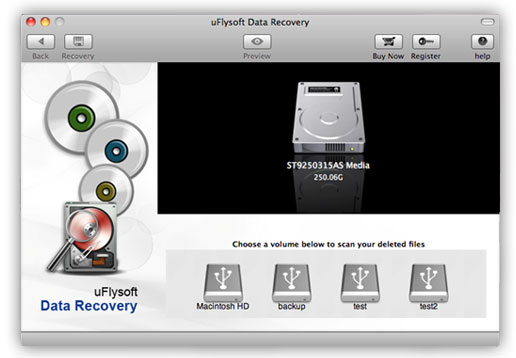 Note and Tips
You cannot recover the files to the same drive where they were lost, therefore choose another volume or some external storage device such as a USB flash drive to save them safely.
Files are not gone permanently if deleted accidently
If you deleted important files or data on USB flash drive, don't worry about that they are gone permanently. Actually, they can be recovered if your computer stays still. When it happened, what you should do first is to choose professional flash drive recovery software to get the files back as soon as possible. Meanwhile, you'd better not make any operation on computer or USB drive to reduce the USB recovery chance.
With uMacsoft USB Recovery software, your lost or damaged files, photos, videos, movies or music can be retrieved successfully! Its smart engine is able to scan what you lost on drive and restore them as soon as possible and seamlessly! uMacsoft can recover data from Mac files system (HFS/HFS+) & FAT32 partitions. And also includes powerful S.M.A.R.T. disk monitoring right out-of-the-box.
Tips
In order to avoid repeating recovery job to find your gone files, you'd better mark your important files as read-only, or make copies of them periodically.
The Articles May Benefit You
How to Recover Deleted Photos from Digital Camera?
How to recover lost files from SD Card?
Testimonials
"With uMacsoft I can go on vacation with less worries! I can now leave my Mac safe, sound, clean and secure Mac always!"
-Randy Porcioncula
uMacsoft USB Recovery
We always support you the best services during 24*7
Hurry! Quick to download it to Recover Files on USB right now!!