Best Way to Recover Photo from Digital Camera
Photo Recovery from Memory Card
Currently, more and more digital pictures and family photo albums are stored on a computer or memory card. These electronic images are much more vulnerable than traditional paper albums. Images could be deleted or erased from your computers, if the system is attacked by a virus. An entire photo album can be deleted or corrupted by faulty software. Digital pictures can disappear from a memory card if you remove it from the camera when it saves your most recent snapshot, or if the operating temperature is too hot or too cold for that particular memory card. Couldn't this problem be fixed at all? Absolutely not! With high technology nowadays, almost all the IT bugs or problems are able to solve perfectly.
To recover photos from memory card on digital camera, you should use 3rd party application, like photo recovery software or data recovery software. Let's walk through the tutorial of recovering pictures from digital camera SD card.
Tutorial to Recovery Images for Memory Card
uMacsoft Photo Recovery (http://www.umacsoft.com) recovers lost and deleted photos, images or pictures completely automatically. With its step-by-step wizard restore digital pictures that are deleted or erased by mistake from hard disks, digital cameras, memory cards and a variety of storage media in a quick and effortless manner.
Photo Recovery Wizard is a below.
1. Download and run photo recover software on Mac OS
2. Connect memory card or digital camera SD card to Mac. There will be a partition on the recovery program interface, just clicking it to scan the lost or deleted photos on the storage medium.
3. A few minutes later, you will see a list of scanned photos or image files displayed on the interface of program. Then you are able to choose them to review by clicking "Preview" button. If you decide to get them back, you should select checkbox of photos, then hitting "Recovery" button.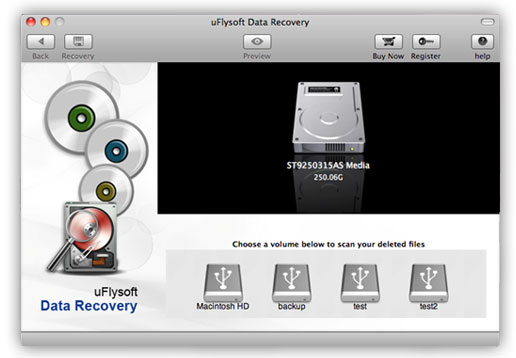 A simple step-by-step makes your lost photos back as original with ease. Not only photo recovery feature, with uMacsoft data recovery program, also can help you restore lost videos, audios or document files as well successfully.
Magic Photo Recovery Program is friendly and easy to use. The convenient wizard guides you through the recovery process in a step-by-step manner. No prior experience with data recovery, and no special skills or outstanding technical abilities are needed. Just launch Mac Photo Recovery and see the magic!
With the information above, I supposed you must be tired of empty promises? Then, simply download the free version to see if it is the very recovery software that you are looking for.
Testimonials
"With uMacsoft I can go on vacation with less worries! I can now leave my Mac safe, sound, clean and secure Mac always!"
-Randy Porcioncula