How to Recover Photos for Panasonic Camera
Undeleted Photos for Panasonic
Question:
We took a ton of photos & video today at Rolling Thunder, DC. When I went to put them in my computer, only a few from the end of the day were there. We have no idea what happened. The only thing I can think of was my husband changed the battery around the time of day where the pictures were deleted, but I don't know why that would have deleted all the photos/video (and there was a ton there). I wish I knew how this happened, and we're both so upset.
Here I urgent to get some software or service to recover photos from camera, is there any recommendation?
Answer:
Your favorite or important photos were accidentally deleted from the SD card of your Panasonic digital camera, I suppose you must feel panic and want to undelete pictures as soon as possible. Here I would like to give you a tip, that is, you'd better not worry about your lost photos that deleted or erased by mistake on SD card, in fact, the pictures are not lost permanently; they are still stored on the digital camera, if this case happens, you don't touch any button or do operation on this camera at all, when you go home, plug camera into computer, and take some kind of photo recover software to restore files at once.
Scenario to Recover Photos from Camera
To complete rescue the photos from Panasonic, I share my tutorials of photo recovery as below.
1. Search and choose professional photo recovery software, download and launch it on the computer.
My tip: I take uMacsoft Data Recovery as my tool to recovery photos; this is Mac program, so that I can download it on my Macbook. The reason of my choice is simple, that is, uMacsoft recovery program is easy to use, and only two buttons "Preview" and "Recovery" can make me complete the photo recovery task.
2. When launching the program, connect the camera to Mac, and click the partition on the interface of program to scan the lost photos. It will take several minutes. You can take a cup of coffee then.
3. When finishing scanning photos, you will see a list of photos displayed on the left side of program. Click "Preview" button to see what they are, if they are the photos that you want to recover. Then hitting "Recover" button to undelete them as you required.
That's it! It's so easy to retrieve deleted photos for digital camera. You can try it by yourself right now by accessing www.umacsoft.com.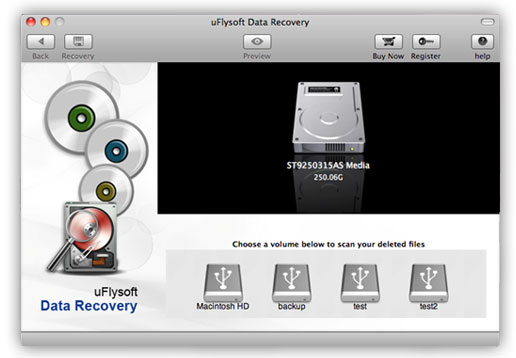 Note and Tips
You cannot recover the files to the same drive where they were lost, therefore choose another volume or some external storage device such as a USB flash drive to save them safely.
In order to avoid repeating recovery job to find your gone files, you'd better mark your important files as read-only, or make copies of them periodically.
Testimonials
"With uMacsoft I can go on vacation with less worries! I can now leave my Mac safe, sound, clean and secure Mac always!"
-Randy Porcioncula