How to Recover Photos for Kodak Camera
Photo Recovery for Kodak
"I have an older Kodak Easyshare (10 years old). I have photos on the internal memory, and the camera is not working - won't power up, totally dead. Is there a way to retrieve photos from the internal memory when the camera won't power on? Someone mentioned they might have a card inside, and I took the camera apart - no card inside. Anyone knows how to retrieve the pictures from the guts of the camera?"
To fix this problem, we suggest you download our trial version of uMacsoft Data Recovery program. The only difference between the trial version and registry one is the "recovery" feature. There is no recovery function on the free version. In this case, you can download trial version to see if the program can scan the camera partition, if yes, then you can recover photos from Kodak with ease, then you are able to use the purchased version.
Common Reasons for losing photos from Kodak Camera
• Accidentally deleted files from SD card
• Formatted SD card
• SD card got corrupted or inaccessible
• Virus inflection
• Power failure
Scenario to Recover Photos for Kodak
An easy and DIY operation tutorial below allows you to restore deleted pictures from digital camera.
1. Install uMacsoft Data Recovery;
2. Plug camera or SD card of Kodak to the computer, and then scan the partition to find lost photos completely;
3. Preview the scanned photos of this camera, click "Recovery" button to save them.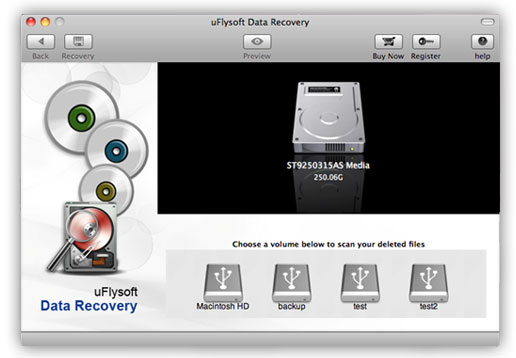 Keep in mind that if you use trial version to scan lost photos, you are not allowed to retrieve them, only registered version can do this job.
Note and Tips
You cannot recover the files to the same drive where they were lost, therefore choose another volume or some external storage device such as a USB flash drive to save them safely.
In order to avoid repeating recovery job to find your gone files, you'd better mark your important files as read-only, or make copies of them periodically.
How Many Photo Formats Do you Know About Camera
RAW image files are proprieties of the cameras manufacturer their file extensions are unique to its own and do not exchange well over other programs they consist of ".RAF" for Fuji ".ORF" for Olympus, ".NEF" for Nikon and ".CRW", "CR2" for Canon, just to name a few. Adobe has also developed a RAW image file extension, ".DNG" meaning digital negative in 2004, Abodes DNG was created with the intention of unifying the individual RAW camera file formats.
Your RAW image is at its most pure, but there is no guarantee that your cameras RAW image will be recognized by available software applications sometime in the future.
DNG files have the ability to store full sized files or JPEG previews making it possible to preview your photos in your selected photo viewer.
JPEG- A common image file format that supports 8-bit color, and produces smaller files with less available information. JPEG is a compressed image format and images to suffer some degradation on conversion.
TIFF- Tagged image format is a flexible format that supports 16 bit color, or less. TIFF although is still supported by many printers as standard for its ability to handle device-specific color spaces such as CMYK.
GIF- Graphic interchange format is limited to a small 8-bit color palette. Gif files are very small making them ideal for internet webpages and animations.
Testimonials
"With uMacsoft I can go on vacation with less worries! I can now leave my Mac safe, sound, clean and secure Mac always!"
-Randy Porcioncula
Photo Recovery for Kodak
We always support you the best services during 24*7
Hurry! Quick to download it to undelete photos for camera!