How to Recover Photos for Fujifilm
Capturing moments was never so easy before digital cameras came into the photography world. Ever since, there has been a big international market dealing with digital cameras. Japan, South Korea and China have been the main players in manufacturing new digital cameras since its inception. Today, no media house can run without digital cameras. Forget media agencies, in our day-to-day life, we have started considering digital camera as a handbag's must-keep item. It has truly given a new definition to the world of photography.
When you travelling outside in Summary, I suppose you must take lots of pictures for you, your family or friends. If the photos you take are not as good as you think, you would like to delete it, then what if you delete all of photos you take by mistake? This must be a terrible experience for you I bet. Well, how to undelete photos from digital camera? Let's take Fujifilm digital camera for instance. Here I would like to introduce an efficient way to recover photo from digital camera.
Things you need
A professional and easy-to-use photo recovery software is the must-have tool. You are able to search this kind of software online; there are lots of data recovery related programs that can perform recovery feature. Let's walk through the simple tutorial of retrieving photos via uMacsoft Data Recovery program.
Step one. Go to uMacsoft official website to download and launch photo recovery software on Mac.
Step two. Plug Fujifilm digital camera into Mac.
Step three. When connecting digital camera to Mac, you will see a partition on the program interface. What you should do right now is just hitting this partition to scan the deleted photos. After a few minutes, you will see a list of scanned pictures displayed on the left side of interface. Then, select these pictures and click "Preview" button to see if they are the photos you are looking for. If yes, just hitting "Recovery" button to restore them successfully!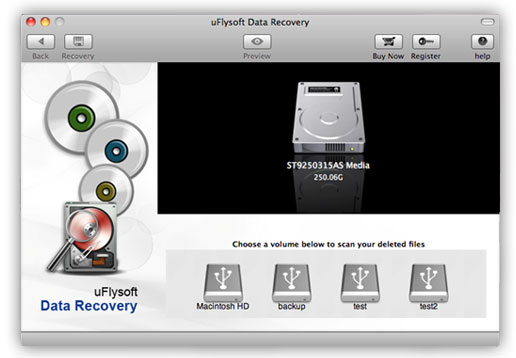 What benefits You Can Get From Photo Recovery Software
Photo Recovery for Mac is professional Mac photo recovery software for Mac OS users to recover lost, deleted, formatted and inaccessible photos, videos and audio files. It provides an excellent solution of Mac photo recovery from Mac based hard drive, iPod, USB drive, digital camera and other storage media. With the simple step by step wizard, even beginners can recover photos and pictures on Mac OS easily.
• Raw Recovery to fully recover photos from Mac;
• Thumbnail preview lets you check photos in advance;
• Read-only application doesn't overwrite or modify the original data;
• Recover photos not only from Mac hard drives but also most of storage media.
Testimonials
"With uMacsoft I can go on vacation with less worries! I can now leave my Mac safe, sound, clean and secure Mac always!"
-Randy Porcioncula