How to Recover Deleted Files from the Trash
What if the computer ate your important files? What if your Trash has been emptied? There is no excuse left; your invaluable files have been disappeared! But before you prepare to do the job all over again from memory, there's very good chance that your files are still alive and kicking somewhere on your hard drive. At this time, you just need to know how to find them as soon as possible!
What cases make your important data disappeared?
• Hard Disk Drive Crash / RAID Failure
• Partition Table Corruption
• Virus Damage & Repair
• Water Damaged Hard Drive
• Disk Initialization
• Human Error
• Bad Sector in the disk
Whatever video, audio or image files, once they are lost from your Mac, hard drive or portable devices, uMacsoft is your good assistant to get them back! How does uMacsoft Data Recovery work?
1. Install uMacsoft Data Recovery
2. Scan partitions to find lost files
3. Preview and save what you deleted or lost data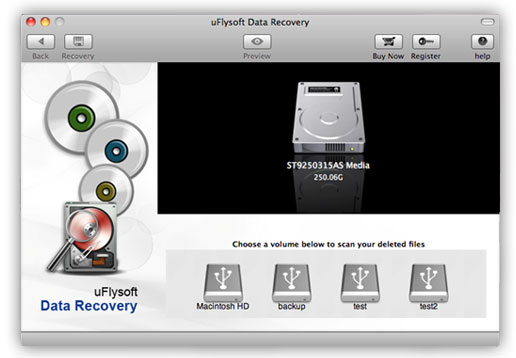 uMacsoft Data Recovery can retrieve up to 99% of deleted files even when the Trash has been emptied. In Addition, uMacsoft also can restore lost files from iPhone 4, iPhone 4s, however, it's important to note that your iPhone should be TAKEN AS AN USB DRIVE.
What Make uMacsoft Data Recovery So Popular?
uMacsoft Document Recovery could find deleted or damaged document files, and recover them with deep scanning feature. As we know, file retrieval is not a simple thing for us whom are not IT experts. When you deleted files like Microsoft Word, Office Excel, or PowerPoint carelessly or by mistake, and what is worse, you have purged your Trash. If it happened, it's an excellent choice for you to choose uMacsoft Document Recovery to get them back for you seamlessly! uMacsoft can recover almost all the document formats for Mac users.
As premier data recovery software, there are more than 10,000 Macintosh users around world having chosen uMacsoft Data Recovery as their system utility to retrieve lost data files. Whatever videos, audio files, images, documents and so forth, once you delete them by mistake, and your Trash has been emptied, uMacsoft can help you get them back as the original ones as soon as possible!
Take uMacsoft to recover your files that deleted or lost, it allows to preview before you decide to retrieve them. uMacsoft Data Recovery supports all file formats for NTFS & FAT32 file systems. However, in order to avoid data losses, we are strongly recommended to create synchronized copies of your important files periodically.
Testimonials
"With uMacsoft I can go on vacation with less worries! I can now leave my Mac safe, sound, clean and secure Mac always!"
-Randy Porcioncula